07.07.2020 - 22.08.2020
"Summer Exhibition summEry" Paul Van Hoeydonck
4 Saturdays from 1-6 pm - 4 July - 18 July - 8 August - 22 August - & By Appointment
Rivoli Building #25 - 690 Chaussée de Waterloo - 1180 Brussel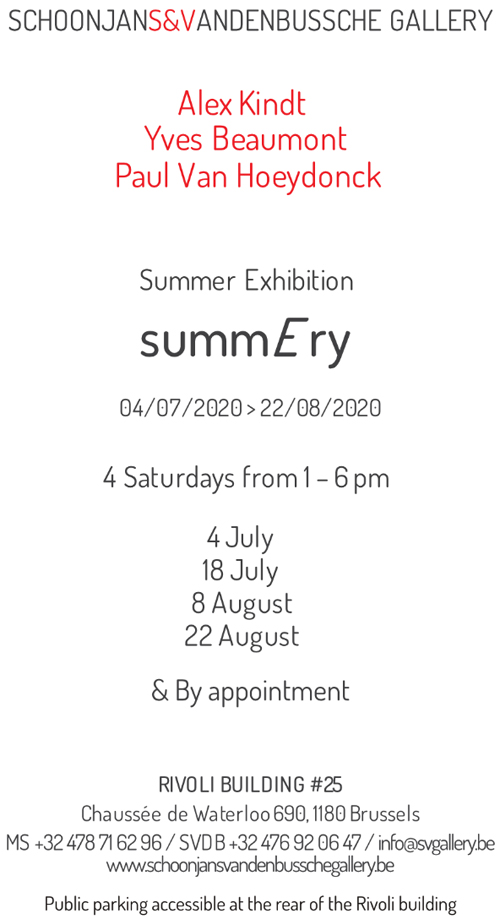 08.03.2020 - 02.05.2020
"Et Alors ! Lightworks 2.0", a solo exhibition by Paul Van Hoeydonck
Rivoli Building #25 - 690 Chaussée de Waterloo - 1180 Brussels
verlengd tot en met zaterdag 27 juni omwille van COVID-19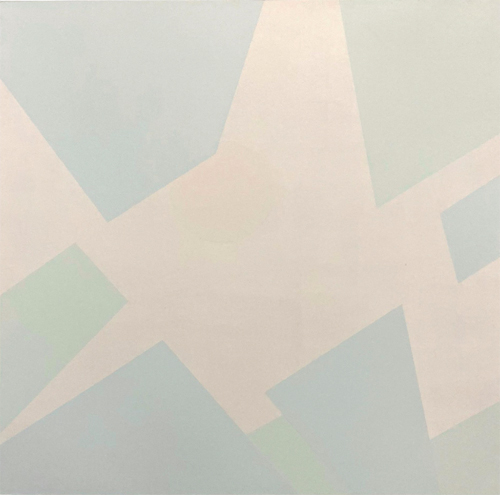 16.11.2019 - 15.03.2020
COSMOS - Silence, on tourne !
LAAC, Lieu d'Art et Action Contemporaine - DUNKERQUE
Une exploration de l'espace où l'imaginaire et la science inventent un autre futur. Dans le cadre du programme d'expositions Museo/Sciences coordonné par l'Association des conservateurs des musées des Hauts-de-France et à l'occasion du cinquantenaire de la mission Apollo 11, le LAAC présente COSMOS, Silence on tourne !, une exposition sur l'exploration de l'espace. continuez >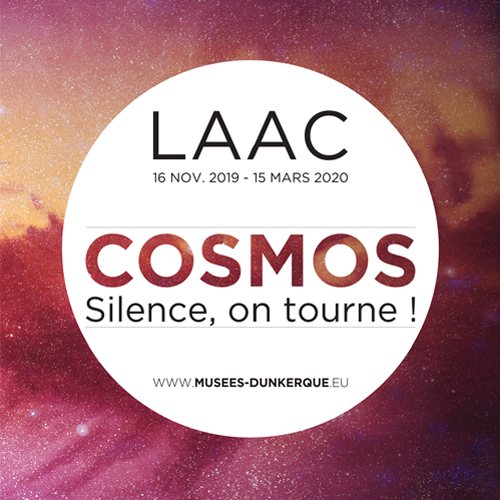 click for more info >
04.10.2019 - 20.12.2019
PAUL VAN HOEYDONCK IN BEELD - ANTWERPEN - HAVEN - WERELD - KOSMOS
Havenhuis Zaha Hadidplein 1 - 2030 Antwerpen
maandag tot vrijdag van 9u00 tot 18u00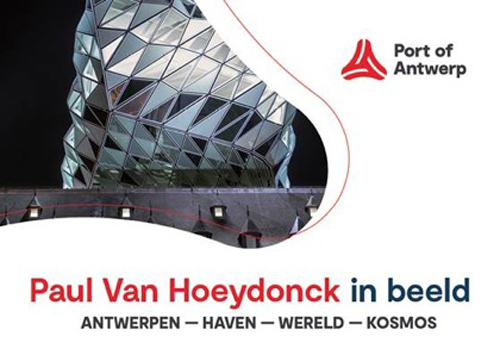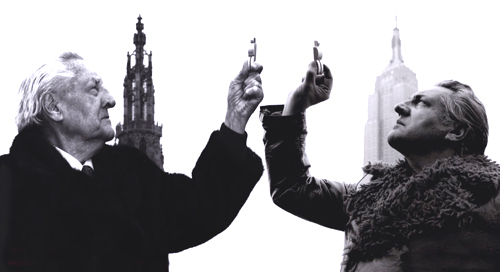 Van 4 oktober 2019 tot en met 20 december 2019 kan je in het Atrium in het Havenhuis beelden van de Antwerpse kunstenaar Paul Van Hoeydonck komen bewonderen. Paul Van Hoeydonck is bekend van het beeldje Fallen Astronaut, het eerste en enige kunstwerk op de maan.
19.09.2019 - 30.11.2019
ANTI-PEINTURE
CALLEWAERT VANLANGENDONCK GALLERY, 21-23 Wolstraat, Antwerp
Thursday-Saturday 1pm-6pm
Vernissage Thursday 19 September 21-23 Wolstraat Antwerp 7pm to 10pm
ANTI-PEINTURE - Piero Manzoni, Walter Leblanc, Vic Gentils, Guy Vandenbranden,
Jan Schoonhoven, Bram Bogart, Paul Van Hoeydonck, Wybrand Ganzevoort,
Jan Henderikse, Henk Peeters, Armando, Lucio Fontana
With the Anti-Peinture exhibition, 24 April to 30 May, 1962, the curtain falls on G58 Hessenhuis. It is not an iconoclastic event as the title suggests, but a broad international overview of kinetic art and neodadaistic reliefs. Many of the artists were already in 1961 in the "nove tendencije" exhibition in Zagreb that had launched the "new tendencies". Callewaert Vanlangendonck Gallery tries to reconstruct this historic exhibition, by holding a group exhibition in which a number of protagonists are highlighted with their drawings, reliefs and anti-peinture art.
05.09.2019 - 19.10.2019
PAUL VAN HOEYDONCK - First artist on the moon
CALLEWAERT VANLANGENDONCK GALLERY, 17 Sint-Jacobstraat Antwerp,
Thursday-Saturday 1pm-6pm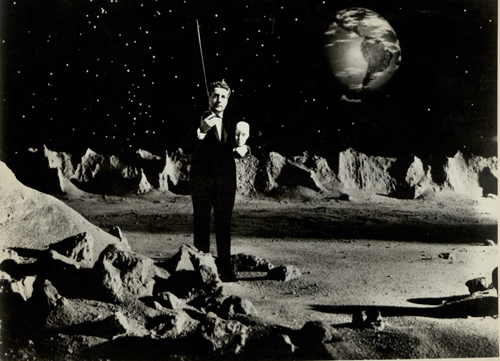 Yoeri Vanlangendonck and Brecht Callewaert are pleased to invite you
to the opening of the exhibition

Paul Van Hoeydonck
First artist on the moon

Vernissage Thursday 5 September
17 Sint-Jacobstraat Antwerp
7pm to 10pm

Introduction at 8pm

The exhibition runs until 19 October 2019
17 Sint-Jacobstraat Antwerp
Thursday-Saturday 1pm-6pm

On the occasion of the 50th anniversary of the moon landing, Callewaert Vanlangendonck pays tribute to Paul Van Hoeydonck (Antwerp, 1925), who is the only artist with a statue on the moon. During this exhibition, space-art works, archival items, the original replica of the statuette on the moon and the recent edition of 'Fallen Astronaut', encased in blue plexiglass, are shown.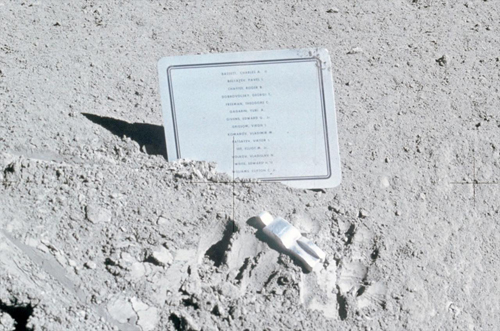 26.06.2019 - 18.08.2019
PAUL VAN HOEYDONCK - Expo Fallen Astronaut
Abbaye de Villers (Villers-la-Ville) Rue de l'Abbaye, 55, 1495 Villers-La-Ville, Belgium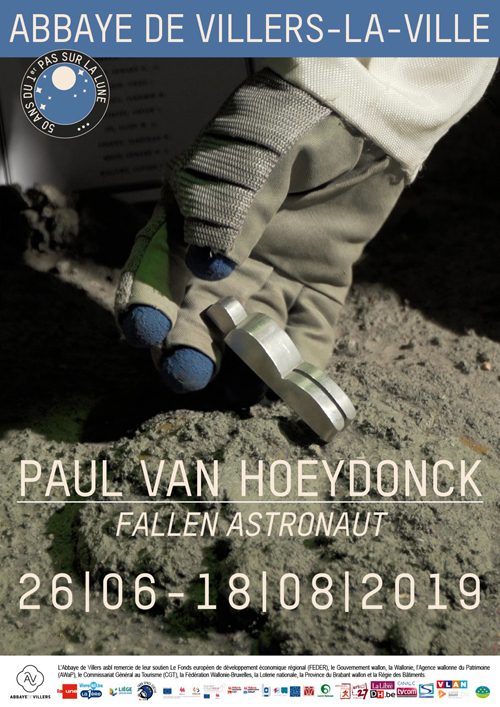 14.12.2018 - 16.02.2019
FORMES - ART ABSTRAIT

CALLEWAERT VANLANGENDONCK GALLERY
Wolstraat 21-23 Antwerp Thursday-Saturday 1pm-6pm
Opening: Friday December 14,Wolstraat 21-23 Antwerp,7pm to 10pm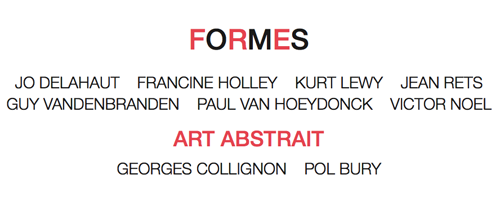 50 JAHRE MONDLANDUNG - PAUL VAN HOEYDONCK. MAN IN SPACE
Galerie Breckner · Altestadt 7 · 40213 Düsseldorf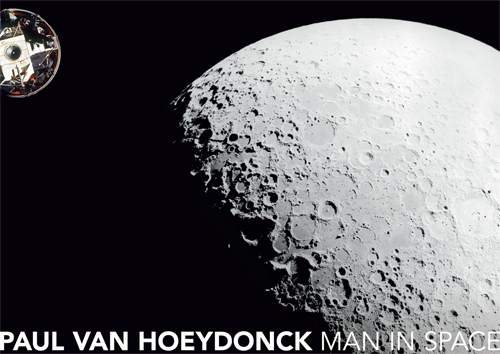 Am Donnerstag, 24. Januar um 19:00 Uhr in der Galerie Breckner,
Altestadt 6, 40213 Düsseldorf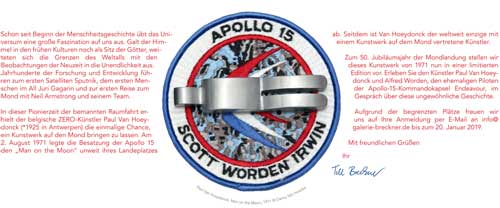 15.12.2018 - 06.01.2019
PAUL VAN HOEYDONCK - ODE TO MOVEMENT 1950-1960
works on paper, oils on canvas, plexiglass

Maurice Verbaet Knokke, Zeedijk, 743
Openingsuren: zaterdag 15 en zondag 16 december: 11u - 13u, 14u - 18u
Kerstvakantie: 11u - 13u, 14u - 18u
Alle dagen, behalve 25 december & 1 januari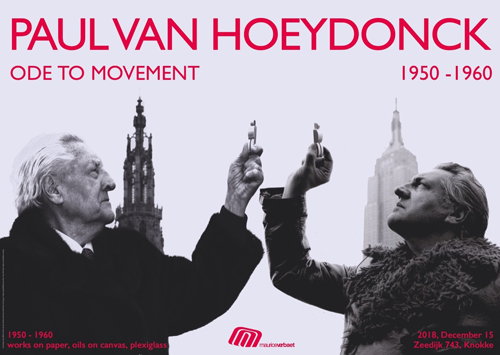 PAUL VAN HOEYDONCK - ODE TO MOVEMENT 1950-1960 - Maurice Verbaet Knokke
09.09.2018 - 10.11.2018
PAUL VAN HOEYDONCK - ET ALORS ...
Early works and evolution to recent lightworks 2.0.
CALLEWAERT VANLANGENDONCK GALLERY
Sint-Jacobstraat 17 Antwerp Thursday-Saturday 1pm-6pm
OPENING Sunday September 9 Sint-Jacobstraat 17 Antwerp 2 to 6 pm
You are kindly invited to the opening of the exhibition PAUL VAN HOEYDONCK - ET ALORS ...
Early works and evolution to recent lightworks 2.0.
Introduction at 3 pm by Bart De Baere, Director of M HKA.
In the presence of the artist.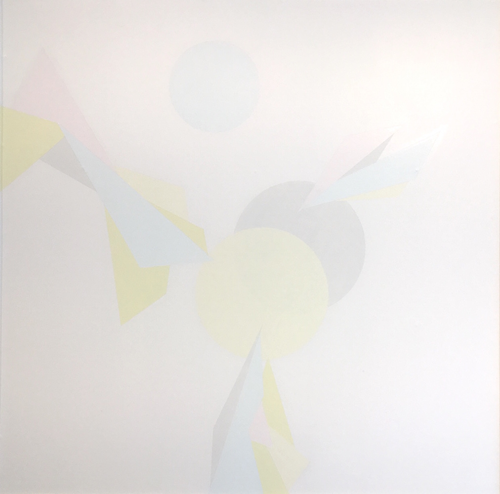 Paul Van Hoeydonck, 'Lightwork 2.0', 2018.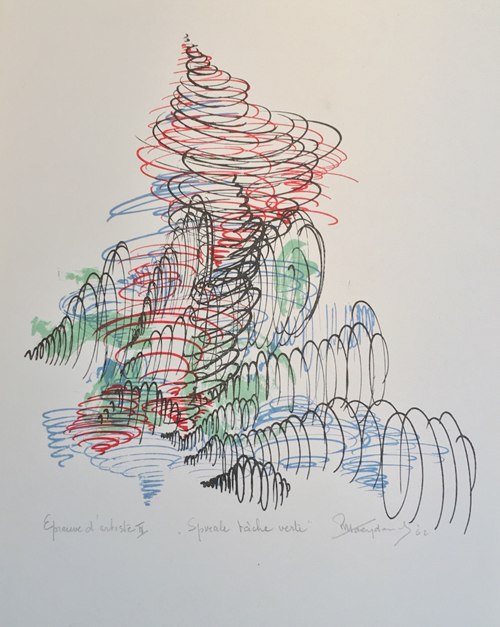 Paul Van Hoeydonck, 'Spirale tâche verte', 1962
Tekeningen vormen een rode draad doorheen het rijke gevariëerde oeuvre van Paul Van Hoeydonck.
"Tekenen is filosoferen. Mijn vingers zijn het verlengde van mijn brein."
Dixit PVH
In dit filmpje toont Paul Van Hoeydonck zijn recente tekeningen waaraan hij met vaste hand alle dagen passioneel gewerkt heeft.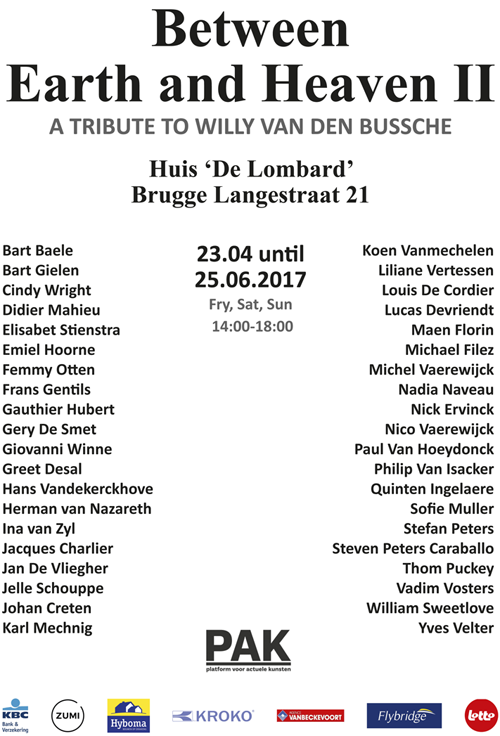 23.04.2017 - 25.06.2017
Between Earth and Heaven II - Een hommage aan Willy Van den Bussche, kunsthistoricus en conservator - 'Huis de Lombard' in Brugge, Langestraat 21
22.10.2016 - 28.05.2017
EEN ANDERE WERELD - Laboratorium van waan en fantasie - Museum dr Guislain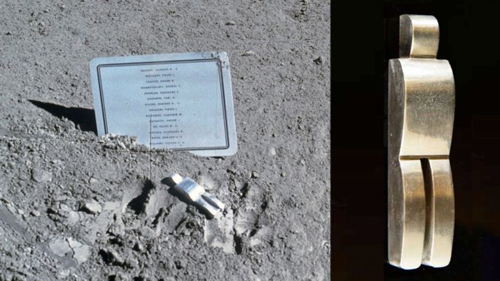 17.02.2017 - 17.04.2017
PLANETS - PAUL VAN HOEYDONCK - FROM ZERO TO ZERO
Eastmen Gallery, Zuivelmarkt 50, 3500 Hasselt
Opening vrijdag 17 februari 2017 van 18u - 20u in aanwezigheid van de kunstenaar
Inleiding door voorzitter van de vrienden van het MuKHA, ERNEST VAN BUYNDER
Opening door Vlaams Minister van Cultuur SVEN GATZ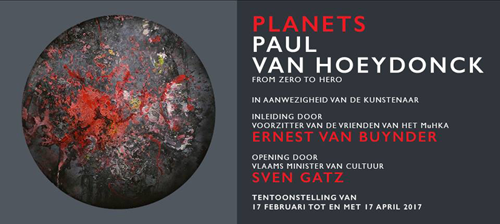 23.10.2016 - 20.11.2016
SPACE BETWEEN DREAM AND REALITY - Galerie Schoots + Van Duyse
Een unieke tentoonstelling met nooit getoond werk van Paul Van Hoeydonck.
Vernissage op zondag 23 oktober 2016 om 15.00u
Napoleonkaai 15, 2000 Antwerpen- open woe t.e.m. zo, 13.00u - 18.00u
verwelkoming door Roland Janssen en Stijn Coppejans
inleiding door Ernest Van Buynder, voorzitter van de vrienden van het M HKA
gelegenheid tot kennismaking met de kunstenaar - bezoek aan de Wunderkammer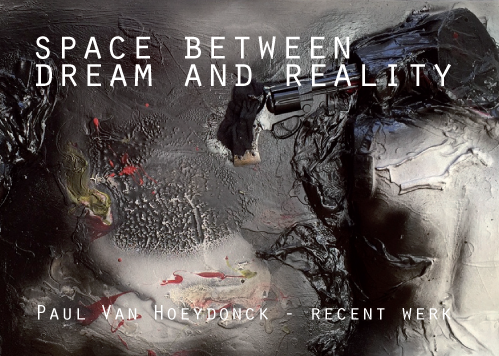 07.10.2016 - 08.11.2016
MADE IN JAPAN - Museum cultuur Strombeek Gent
Gemeenteplein z/n, 1853 Strombeek-Bever
Open 7/7, ma-za 10–22u, zo 10–18u, gratis toegang
05.08.2016 - 18.09.2016
selected works ZEROWORKS - SPACE SCULPTURES - FINE ART ON THE MOON
GALERIE LUC VAN MIDDELEM • Zeedijk 734 • 8300 Knokke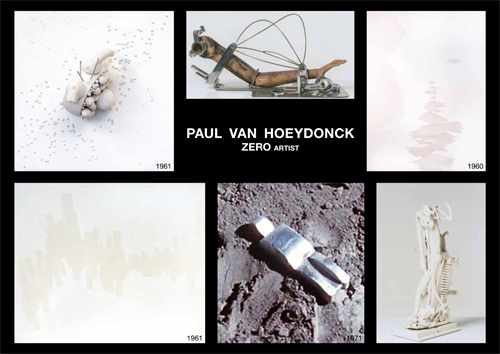 Guggenheim herstelt Belgische kunstenaars in ere - New York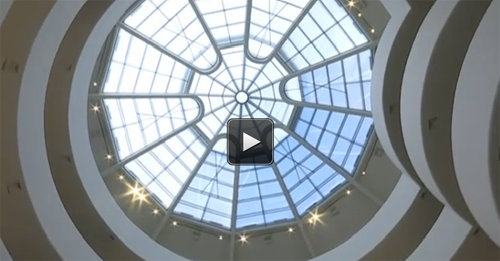 HET JOURNAAL - 13/10/14 - click here to play video >
ZERO: Countdown to Tomorrow, 1950s–60s, is the first large-scale historical survey in the United States dedicated to the German artists' group Zero (1957–66) founded by Heinz Mack and Otto Piene and joined in 1961 by Günther Uecker, and ZERO, an international network of like-minded artists from Europe, Japan, and North and South America—including Lucio Fontana, Yves Klein, Yayoi Kusama, Piero Manzoni, Almir Mavignier, Jan Schoonhoven, and Jesús Rafael Soto—who shared the group's aspiration to transform and redefine art in the aftermath of World War II. Featuring more than 40 artists from 10 countries, the exhibition explores the experimental practices developed by this extensive ZERO network of artists, whose work anticipated aspects of Land art, Minimalism, and Conceptual art. ZEROencompasses a diverse range of media including painting, sculpture, works on paper, installations, and archival materials such as publications and photographic and filmic documentation. The exhibition is organized around points of intersection, exchange, and collaboration that defined these artists' shared history. Among the themes explored are the establishment of new definitions of painting (such as the monochrome, serial structures, and fire and smoke paintings); the introduction of movement and light as both formal and idea-based aspects of art; the use of space as subject and material; the interrogation of the relationship between nature, technology, and humankind; and the production of live actions or demonstrations. At once a snapshot of a specific group and a portrait of a generation, the show celebrates the pioneering nature of both the art and the transnational vision advanced by the ZERO network during a pivotal decade.

ZERO: Countdown to Tomorrow, 1950s–60s is supported by the exhibition's Leadership Committee, with special thanks to The George Economou Collection, the committee's Founding Member, as well as to Larry Gagosian, Axel Vervoordt Gallery, and Stefan Edlis and Gael Neeson.
Additional funding is provided by Rachel and Jean-Pierre Lehmann, the Swiss Arts Council Pro Helvetia, Anna and Gerhard Lenz, Mondriaan Fund, The David W. Bermant Foundation, and an anonymous donor.
Support for this exhibition is also provided by Sperone Westwater; Beck & Eggeling International Fine Art; Cees and Inge de Bruin; Sigifredo di Canossa; Patrick Derom; Yvonne and Edward Hillings; Dominique Lévy Gallery; Nicole and Jean-Claude Marian; The Mayor Gallery; Mnuchin Gallery; Achim Moeller, Moeller Fine Art, New York; Robert and Irmgard Rademacher Family; David Zwirner, New York/London; Institut für Auslandsbeziehungen e.V. Stuttgart; Walter and Nicole Leblanc Foundation; Consulate General of the Federal Republic of Germany New York; The Government of Flanders through Flanders House New York; and Netherland-America Foundation.
www.guggenheim.org >

Museum op schaal 1/7 - Kunsthal Rotterdam
13 September - 7 December 2014
http://www.kunsthal.nl
PAUL VAN HOEYDONCK - From Zero to the Moon
25 September - 2 December 2014
Werk van 1954 tot 1975 en recente sculpturen
ART GALLERY CALLEWAERT-VANLANGENDONCK - Antwerpen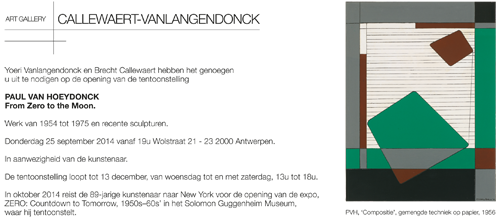 Paul Van Hoeydonck - PLANETS & DRAWINGS - Eastman Gallery - Hasselt
27 juni 2014 - 3 augustus 2014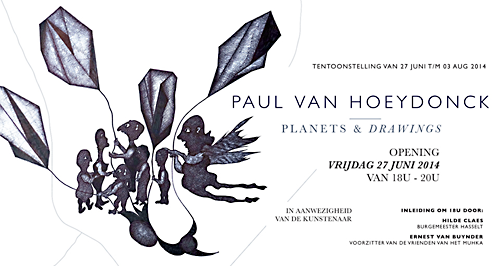 Abstractions géométriques belges - BAM BEAUX-ARTS MONS
22 maart 2014 - 13 juli 2014

Sculpture on the Moon: Meet Artist Paul van Hoeydonck
Thursday, December 12, 2013 - Museum in Washington, DC
read more >

© Donald Woodrow

© Donald Woodrow
The National Air and Space Museum is delighted to inform you that the public event, Sculpture on the Moon: Meet Artist Paul van Hoeydonck, has been rescheduled to be held in the Museum's "Moving Beyond Earth" exhibit in the building on the National Mall in Washington, D.C., on Thursday, December 12, 2013 at one o'clock in the afternoon.

You are cordially invited to attend.

Before the Apollo 15 mission in 1971, NASA astronaut and mission commander Dave Scott met van Hoeydonck in New York City and asked him to create a miniature sculpture that could be left on the Moon. Without any publicity, Fallen Astronaut, a three-inch aluminum figure, was brought along on the mission and left on the Moon, along with a plaque honoring the 17 American and Soviet space travelers who had died in service to human spaceflight. When the existence of the statue was revealed early in 1972, van Hoeydonck donated an exact copy to the Smithsonian Institution. It has been on public display in the "Space Race" gallery in the Museum in Washington, D.C. since 2001. Fallen Astronaut is the only sculpture on another world.
Van Hoeydonck, now 88, is a senior artist of renown, and has been interested in the creation of spaceflight-related art for five decades.

The program will feature a short presentation Senior Curator Tom Crouch, followed by an interview-style discussion with van Hoeydonck moderated by Space History curator Dr. Margaret Weitekamp. Van Hoeydonck will show photographs of some of his artwork during the discussion. This program will detail both a history of van Hoeydonck's work in spaceflight art, and NASA's ongoing interest in fine arts as they relate to human spaceflight. Van Hoeydonck will take questions from the public in conclusion.
If you would like to have seats reserved for you at this public event, please reply by December 1st to Paul Griffith at griffithp@si.edu or (202) 633-2568.

A video recording of the event will posted to the Museum's website (www.airandspace.si.edu) at a later date.
Margaret A. Weitekamp, Ph.D.
Curator, Space History Department
Download invitation letter
Sculpture on the Moon: Meet Artist Paul van Hoeydonck >
Uitreiking Ere-Doctoraat aan de Universiteit van Luik op 26 september, dit tijdens een academische zitting in aanwezigheid van een Amerikaanse astronaut, de Belgische Astronauten Dirk Frimout en Franky Dewinne.
© Donald Woodrow